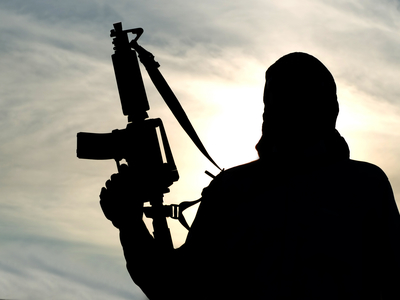 My name is Muslim which I have chosen to adopt because of my belief in my love. Everyone knows that my soul husband is a Muslim. I have written a blog about the patriotism and prayer to almighty saving my Valley and what happening in the valley etc. However, someone has commented or used his poor intellect brain to make a judgment that all Muslim are jihadi and I am one of them. So far, I have written on my blog which reflects reality. Neither I nor my blog represent any political party, religion, or any radicalized organization. However, my blogger colleague has given me the title of jihadi and supremacist. I have written which is real or I have written about the life which I have lived. Two days ago, I was told by an honest and brave officer of JKP that I am a daughter of Kashmir and India, and I will be safe to travel in JK.
I am not happy to write this article but I don't have a choice. My father and I both have believed in humanity. Both I and my father was failed to decide which side we were when there was terrorism in Punjab. Both of us has spent our life outside of India due to the job. My father had moved to Punjab just a few months before the genocide of Sikh. I told my father, that time, "well, dad we will just stand in the middle. We will not take any side (religion and country)".
Hmm, am I need to stand in the middle now? Okay if I am one of the jihadis then why I am getting death threats from the jihadi group. So, I will let the jihadis and Govt of India decide which side I am now.
Who was born first: religion or country, or human. My religion is humanity. I take the side of those people who become a victim which does not matter which religions they are. I see a human not a marked by religion person. I believe in nature, not in the borders. I go where nature is. I respect all religions. I go to Hindu temple, Mosques, Sikh temple, and a church. I don't believe in any isms. I don't believe in colorism or sexism or any racism. I respect everyone's faith and belief. I don't believe in fakism. I write about the truth. My blogger friend also has a problem with my poor English knowledge. Are you kidding me? English is my 5th language. Well, I do my job perfectly to save human lives where I need my brain and educational skills, not my writing skills.
Okay, my blogger friend can see the murder or rape of his people. But he has forgotten to see the murder and rape of humanity. I am not jihadi or nazi. The terrorism is the game of politics and the greed of some religious leaders, in which they have sold their views to the public for the sake of religion. I celebrate Eid, Diwali, x mas. Well, all Muslim are terrorists per my blogger friend. How about another part of the country where no Muslim lives but there is terrorism. My blogger colleague is worried about the murders and rape of Kashmiri pandits. Where do you live my blogger friend? The Kashmiri people did not do that act of shame. It was done by the greedy people who want to play the game to get the support of the public. It was the game of politics who had blackmailed their innocent emotions.
Today my native country has lost its identity because of radicalized people like my blogger friend. Who is a real jihadi here? No need to explain, people like this blogger who spread the hate and rumors, are the real jihadi. Of course, the govt of India has blocked social media accounts of those haters. They don't have anything to do except sitting in the home and writing poisonous material about others or blaming others. Okay if I am one of the jihadis, do you have proof? Yes, the Govt of India does have proof who I am, so before you talk or write anything my dear friend plz use your brain little bit. Somebody's else house will not become yours if you have paid a visit.
My native country had lost many lives because of people like my blogger colleague. India is not anybody's personal property. It is the country of people who has different beliefs, faiths, culture, and religion, and languages. However, some radicalized people think that India is their personal property so it belongs only them. Are you kidding me? Where were you when people of all faiths had given their lives for the freedom of the country. Why we have riots at the different places of my native nation because people like my blogger colleague spread the poison than love.
I am born as a Sikh where mothers don't lullaby their kids to comfort them. We get the lullabies but it is different. Our mothers teach us how to scarify our lives to protect the country and poor people. They don't teach us radicalization. The history is witnessed about the warrior and loyalty of my roots so I will highly advise my blogger colleague Pankaj that read the history before you call me jihadi. The blogger said, "we will take care of our India and PM". Are you kidding me where were you when then PM was assassinated in the past? where were your ancestors if you were not born yet?
We need to work hard to get something but not being radicalized. Freedom always asks scarify and blood. Kashmiri people are not terrorists or jihadis. They are innocent and they get so happy to see a tourist. I will invite this blogger friend to visit the Kashmir and meet the real Kashmiris.
Amarnath Yathra was suspended two weeks early this year. It was a game of politics too. The pilgrims were told to leave Kashmir as soon as possible. The reason was very clear because the Indian govt had decided to break the article 370. The govt was afraid that the public will come to the road to protest, and it will create more issues. This is a fresh example of a game of politics. Interestingly, the security forces have found an American manufactured sniper rifle, and Pak made IED mine close to the yathra line, so it was lamely excused to discontinue the yathra 2 weeks early. Well, who is the security in charge or a commander in chief of that area? Who monitors the safety of Hindu pilgrims since the last 3 years? A presidential and gallantry award winner, highly educated, and brilliant top cop of JKP. He is a Muslim. He coordinates with the army and CRPF for a joint attack on the terrorists. He is the mastermind of all plannings that is why is also in the hit list of different terrorist groups. Okay, he is also a jihadi if my blogger friend thinks that I am jihadi because he is my so-called soul husband and highly decorated cop. I wrote the patriotism article due to my personal view about him. I used to think that he is more patriotic than me but then I got a chance to see how much he is patriotic. My entire blog is related to my love so that particular article was also related to him.
I visit Kashmir frequently. In my entire relationship with him, I never used his authority, his security, or any privilege. Except once I sat in his bulletproof car with a high tactical squad of 18 commandos. That was also due to an official trip. I had never seen him using govt sources for his private life. I walked with him in the Valley without any security. He is my soul and I have right to say good or bad about him. But nobody dares to say a single word against my man, I will be a worse one to reach them a lesson. So I invite my this blogger who called me and another Muslim, jihadi. Come on and walk with me in the Valley without any security. You will see the real love of those Kashmiris. So don't judge anybody by someone's religion, caste, color, or name. Not everyone is born jihadi or Naji or Khalistani. People like this blogger colleague are the one who creates the problem, riots, and terrorism.
I am proud to live in the USA. I am proud to be part of the USA. I am proud to be the part of honesty and respectful community where people don't judge others. Well, I wish somebody could permit me to teach the lesson to those social media radicalized people.
I shared the posting of being jihadi with my coworkers. Everyone was shocked to read it. But everyone also has made fun of him by saying," you don't have to worry to monitor your home anymore because the USA will be monitoring the house of the jihadi. The USA doesn't negotiate with terrorists. I never heard anybody calling me or my Muslim colleagues from the Middle East or Pak jihadi. Good for my this blogger buddy who lives in India. He will be behind the bar now if he has lived in the USA and passed this comment to me.
This is an example of racism and hates crime. Should this type of people be on the media or writing the blog. I live and work among the diverse cultural people. I get along with Hindu Muslim Christian or any race or color people. Recently, someone has made similar comments to me on Facebook when we were discussing the corrupt family of Punjab. Later it comes in mind that It was not due to me but it was only due to my name.
So it makes me think about how people judge others. Please read his comments on my article: Patriotism, What is happening in the Valley, Letter to the Almighty.
In the end, there is another name added in my list, "Jihadi". Local authorities will get more confused, "are we protecting Jihadi now?" Somewhere my mother will be happy to read and will say," didn't I tell you to stay away from Muslims. Now you and your father should learn your lesson". Tt have raised question inside of me," well, a person spends her time to save people's life without any discrimination, is called as jihadi. Then what will be the quality or strength of real jihadis? Anyway, I am a woman who is full of passion and compassion, love her soul husband. So I don't care what people call me because I know who I am. Nobody has the right to tell me who I am.